How to order
1>
Please select Color of the product before, Then select the desired size. To identify colors and sides to us!
2>
In the line of size. It tells you the number of products available or may show the status of the product such as call, make within 1-2 days or discontinued in the absence of goods.
3> Click
the
"
ADD TO CART
"
button to purchase the item. If you do not want to order anything else, click the "
CHECK OUT
" button on the top right with the cart icon.
คำอธิบายสินค้า :
GAS MONKEY embroidered patch #embroidered black, yellow, black on black cloth/Size 8*8cm No.P7Aa52-0625

Hanuman black and white patch, beautiful and chic Thai pattern. Black embroidered with silver tinsel on black poly background /Size 25*20cm, detail work, model P7Aa52-0625 Best on jackets ect. high quality embroidery work put on a shirt with a hat Stick to fashion products, DIY work clothing, embroidery Long lasting, washable without falling off. Can be made to order according to the desired size. We will charge the price according to the size increase.


No. : P7Aa52-0625
| | |
| --- | --- |
| Price : | 100฿ |
| Color : | embroidered black, yellow, black on black fabric |
| No. : | P7Aa52-0625 |
| Size : | Size 8*8cm |

ประเภทสินค้า : อาร์มรีดติดเสื้อ ตีนตุ๊กแกติดเสื้อ เครื่องแบบ งานปักโลโก้ สามารถนำไปรีดติดเครื่องเเต่งกาย หมวก กางเกง ยีนส์ กระเป๋า โลโก้งานปัก


การออกแบบ&ดีไซน์ :
- ระดับมืออาชีพ แบบสวย ปักสวย เก็บงานเรียบร้อย
- ลายเส้นคมชัด ใส่ใจทุกรายละเอียด
- 100% การันตี งานสายเส้นละเอียด คมชัด
- งานเยอะ งานน้อย เราไม่เกี่ยวครับ สามารถสอบถามได้ครับ
รับทำอาร์มหรืออาร์มทุกชนิด งานเฟล๊กซ์ จัดส่งทัวประเทศไทย งานอาร์มต่างๆ
ตัวอย่างอาร์มชนิดต่างๆที่รับทำ
- อาร์มโรงเรียน อาร์มองค์กร อาร์มติดแผนกบริษัทเอกชนต่างๆ
- อาร์ม กระทรวง ทบวง กรมหน่วยงานราชการ ทหาร ตำรวจ
- อาร์มแผนกโรงงานต่างๆ หน่วยงานรักษาความปลอดภัย
- งานเฟล๊กซ์ เฟล๊กซ์เสื้อ เฟล๊กซ์หมวก ด้วยสติ๊กเกอร์อย่างดี


ขั้นตอนการสั่งทำ
1. ลูกค้าส่งแบบที่ต้องการเป็นไฟล์ถาพ เช่น jpg , AI
2. ระบุขนาด, จำนวน และ ประเภทที่ต้องการ เช่น แบบรีดติด หรือ เย็บติด
3. ทางร้านจะประเมินราคาแล้วแจ้งให้ลูกค้าทราบภายใน 24 ชม.
**ระยะเวลาการผลิต ประมาณ 5-8 วัน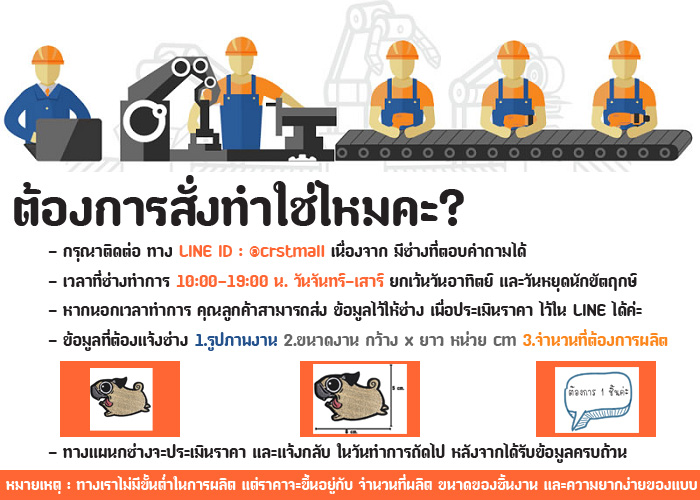 GAS MONKEY embroidered patch #embroidered black, yellow, black on black fabric/Size 8*8cm No.P7Aa52-0625