How to order
1>
Please select Color of the product before, Then select the desired size. To identify colors and sides to us!
2>
In the line of size. It tells you the number of products available or may show the status of the product such as call, make within 1-2 days or discontinued in the absence of goods.
3> Click
the
"
ADD TO CART
"
button to purchase the item. If you do not want to order anything else, click the "
CHECK OUT
" button on the top right with the cart icon.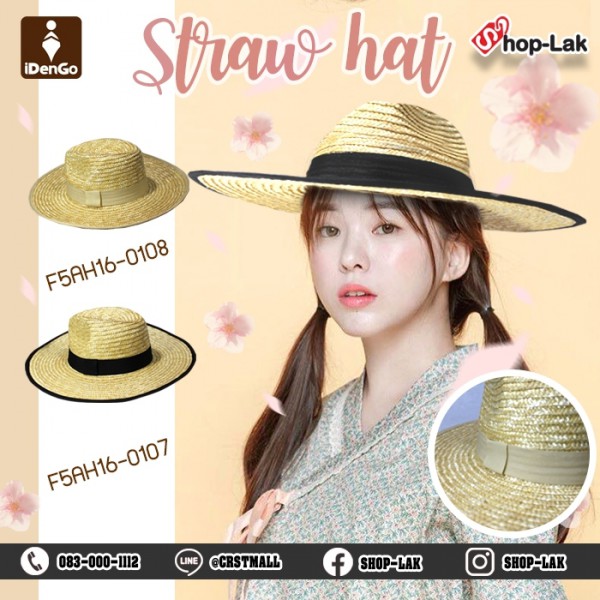 คำอธิบายสินค้า : หมวก ปานามา ปีกรอบ สานไม้ไผ่ปีกกว้าง หมวกทรงสวย เหมาะกับทุกฤดูกาล สวมใส่เบาสบายมีสไตล์ รุ่น F5Ah16-0107
หมวก ปานามา ปีกรอบ สานไม้ไผ่ปีกกว้าง หมวกทรงสวย เหมาะกับทุกฤดูกาล สวมใส่เบาสบายมีสไตล์ ทรงสวยงาม งานดีละเอียด ใส่แล้วมีสไตล์ในแบบของคุณ ใส่ไปเที่ยวทะเลภูเขา น้ำตก เที่ยวต่างประเทศ หรืองานเลี้ยงต่างๆ ทนทานต่อการใช้งาน สามารถใส่กันแดดกันร้อนได้ดี เที่ยวงานเทศกาล
รหัสสินค้า :
F5Ah16-0107 หมวกปานามาสานไม้ไผ่ปีกกว้างกุ้นขอบดำ*CN $
F5Ah16-0108 หมวกปานามาสานไม้ไผ่ปีกกว้างกุ้นขอบครีม*CN $
| | |
| --- | --- |
| ราคา : | 280฿ |
| สี : | ดำ,ครีม |
| รุ่น : | F5Ah16-0107 |
| ไซด์ : | ฟรีไซด์ |
ประเภทสินค้า : หมวก ปานามา ปีกรอบ ผู้หญิง
การออกแบบ&ดีไซน์ : หมวกปานามา สานไม้ไผ่ปีกกว้าง
จุดเด่นและคุณลักษณะพิเศษ : ทรงสวย สานไม้ไผ่ปีกกว้าง ทนทานกับการใช้งาน

ประโยชน์ใช้งาน : #กันแดด #กันลม #เพิ่มความเท่ห์ #เพื่อความสวยงาม #sexy #ทันสมัยไม่ตกยุค #มีสไตล์

Panama hat, bamboo frame, wide brim, beautiful hat suitable for all seasons. Light and comfortable to wear, stylish model F5Ah16-0107.