How to order
1>
Please select Color of the product before, Then select the desired size. To identify colors and sides to us!
2>
In the line of size. It tells you the number of products available or may show the status of the product such as call, make within 1-2 days or discontinued in the absence of goods.
3> Click
the
"
ADD TO CART
"
button to purchase the item. If you do not want to order anything else, click the "
CHECK OUT
" button on the top right with the cart icon.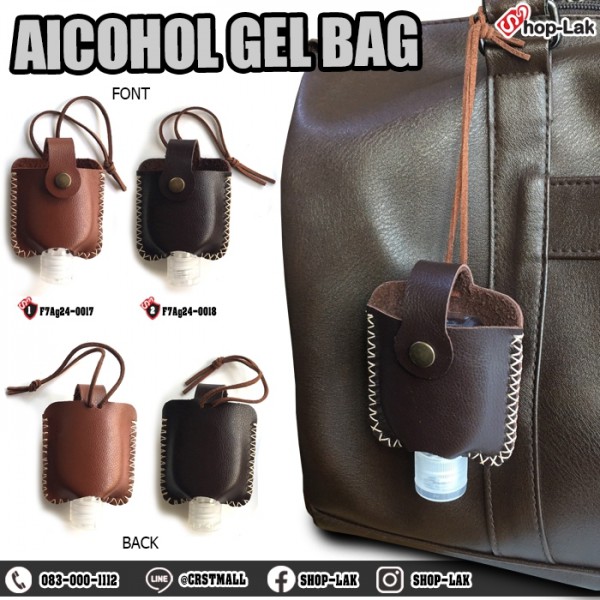 Product Description: Leather case for perfume bottle, portable size, sew on both sides, plain color, no pattern, luxury, can be hung on Easy to apply. Available in 2 colors. No.F7Ag24-0017
During the epidemic Hand washing gel is necessary to carry with you. To clean and sanitize Covid-19, we want our customers to carry alcohol gels more conveniently. By hanging it on a bag or key chain so it can be used more conveniently Which can continuously add alcohol So we made a 30 ml empty bottle holster for easy portability. Which we have not abandoned the leadership of fashion And styles that indicate the identity of the customer Incidentally, the holster for the portable gel bottle that we produce (Not including alcohol gel As the alcohol gel is a regulated product)
Product code:
F7Ag24-0017 Leather Case with 2 stitched gel bottle # Brown * PL $
F7Ag24-0018 Leather Case with 2 stitched gel bottle # Dark Brown * PL $
Price: 130 ฿
Color: Brown, Brown Needle
Model: Leather holster
Size: Freesize
Product type: Leather case for gel bottle
Design & Design: Leather holster for gel bottles, one-sided stitching There are bottle openers and floor lockers, without pattern.
Features and special features: The suede has a hanger with a bottle lock.
Usage advantage: # Collecting alcohol gel #Cream or other liquid storage # Convenient to carry around # For beauty # Modern and not out of date
Leather case for perfume bottle, portable size, sew on both sides, plain color, no pattern, luxury, can be hung on Easy to apply. Available in 2 colors. No.F7Ag24-0017